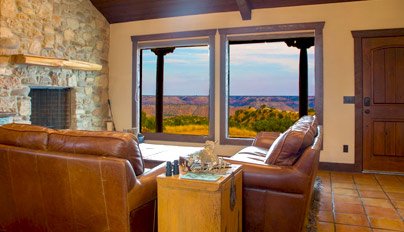 The VRBO Bear visit's ChairLift Cabin!
Posted On March 27, 2016
Doves Rest Cabin's ChairLift has been visited and reviewed by VRBO Bear:
03/05/2016 – As the VRBO Bear, I have had the opportunity to stay at many wonderful vacation rentals and I must say that my week at Doves Rest ChairLift Cabin was one of the most relaxing vacations that I have ever experienced. The owner and manager are very pleasant gentlemen and came by to welcome me on my first day there. The cabin was well beyond my expectations. It is just as described, but it is hard for pictures to do it justice. The view is so beautiful that I did not want to leave. It overlooks Palo Duro Canyon State Park and it is about a 5 minute trip by car to reach the park, but it's hard for the park to compete with the beauty of the view at ChairLift Cabin. The cabin is very comfortable and has everything you need to have a wonderful stay. Bring your groceries and you are able to cook full meals in the kitchen and on the outdoor gas grill. There are TVs in each room, but we hardly turned them on. Sitting on the porch and staring out at the canyon during the day and up at the magnificent star filled sky at night is much preferable to watching anything on TV. It's very private and you will not hear a sound except for maybe some wildlife passing by. Try to stay for a full week – trust me, it doesn't get old! If you decide to venture out and want to go horseback riding, there is a place right down the road that is between the cabin and the park. You can ride from the side of the highway down into the canyon. I cannot recommend ChairLift Cabin enough! I have spent all week bragging about how great it was and look forward to going back.